How Do National Credentials Benefit You?
Associated Training Services trains individuals for third party credentials.
National Commission for the Certification of Crane Operators (NCCCO).
These national organizations were established by industry professionals, educational institutions, government, and employers from the industries which can benefit from these training programs.
National, third party training and credentials:
Ensures you are receiving industry recognized training and credentials.
Ensures you are receiving up-to-date subject matter and curriculum content.
Ensures the instructors follow a standardized set of teaching guidelines.
Ensures curriculum is delivered and testing procedures are administered consistently and uniformly.
National Commission For The Certification Of Crane Operator (NCCCO)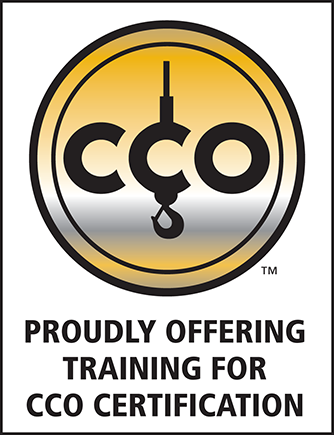 NCCCO was formed in January 1995 as a non-profit organization to develop effective performance standards for safe crane operation to assist all segments of general industry and construction. By providing a thorough, independent assessment of operator knowledge and skills, NCCCO aims to enhance lifting equipment safety, reduce workplace risk, improve performance records, stimulate training, and give due recognition to the professional skill of crane operation. The establishment of NCCCO was the culmination of almost 10 years of continuous work by representatives of all industries that use cranes. In essence, the NCCCO program was developed by industry for industry and continues to be supported by it.
Crane Operator Training & Certification
ATS crane operator training and certification teaches people how to operate fixed cab (boom trucks) and swing cab (rough terrain) mobile hydraulic cranes, lattice boom cranes, and articulated boom (knuckleboom) cranes. Trainees in these programs are prepared for and tested on the written and practical exams for certification through the National Commission for the Certification of Crane Operators (NCCCO). The NCCCO crane operator certification is one of the most widely recognized crane operator certifications in the crane operator industry. ATS is approved by the NCCCO as a test site for both the NCCCO written and NCCCO practical exams. Crane students may also be interested in the Rigging / Signalperson training and certification offered at ATS.
Employer Paid Specialized Training
ATS delivers its crane, heavy equipment, truck driving, rigging/signalperson, horizontal directional drilling training programs at its fifty-acre site in Sun Prairie, Wisconsin or anywhere in the United States when an employer is looking for specialized training. ATS has a staff of twenty instructors who will travel to any location for training and testing. These specialized training programs can be customized to meet the employer's time and cost requirements.
ATS Specialized Website